Telecoms
Free your communications with cloud based telecoms, our cloud-based service could save your company thousands a year over legacy on-premise solutions and offer superior functionality and reliability.
Send An Enquiry
---
Key Features
Microsoft Teams Support
Take and make calls within Microsoft Teams or via a desk phone.
Make Calls Anywhere
Accept and make calls on the go via a mobile app or with call redirects.
Enterprise Features
Make use of enterprise features with call queues, IVR menus, video calls and more.
Slash your Phone Bill
Utilise SIP instead of leasing physical phone lines and reduce call costs.
Telecoms FAQs
People and businesses have the right, by law, to keep their telephone numbers regardless of who they choose as their phone company. Ofcom's rules mean all telecoms providers must let customers take their telephone number with them when they switch providers. This process is known as 'number porting'.
We will guide and assist you through this process if you are joining or leaving us.
We use advanced software that comes with many features and options that can be used to meet most needs. Should you need something extra special we can also look into developing a custom addon to achieve your goals.
If you are a medium sized company and have a system you have had in place for quite a long time you may well be using an ISDN line. These are an older and much more expensive method of providing phone lines than the digital connections we use over the internet.
If you are not using an ISDN line and are using SIP instead we may still be able to lower your costs. The telecoms industry is notorious for over-inflated pricing, we can help guide you through the market by providing you with the best value solutions based on your needs.
When operating out of multiple offices or warehouses we can remove call costs for calling between those locations as our solution is kept in the cloud. We will deploy out a small device on site that will create a bridge between your local network and the cloud based system, by putting a bride at each of your locations you can make calls to other sites like they were all in the same building.
If you work internationally we can put in separate regional systems and bridge these in a very similar way, giving you the flexibility to take calls from international callers via their standard regional call rates.
We have various options available. We can provide plans with all-inclusive calls to UK landlines and Mobiles, generous included minutes and international call plans too. We will work with you to identify the best plan for you based on your calling history and your needs.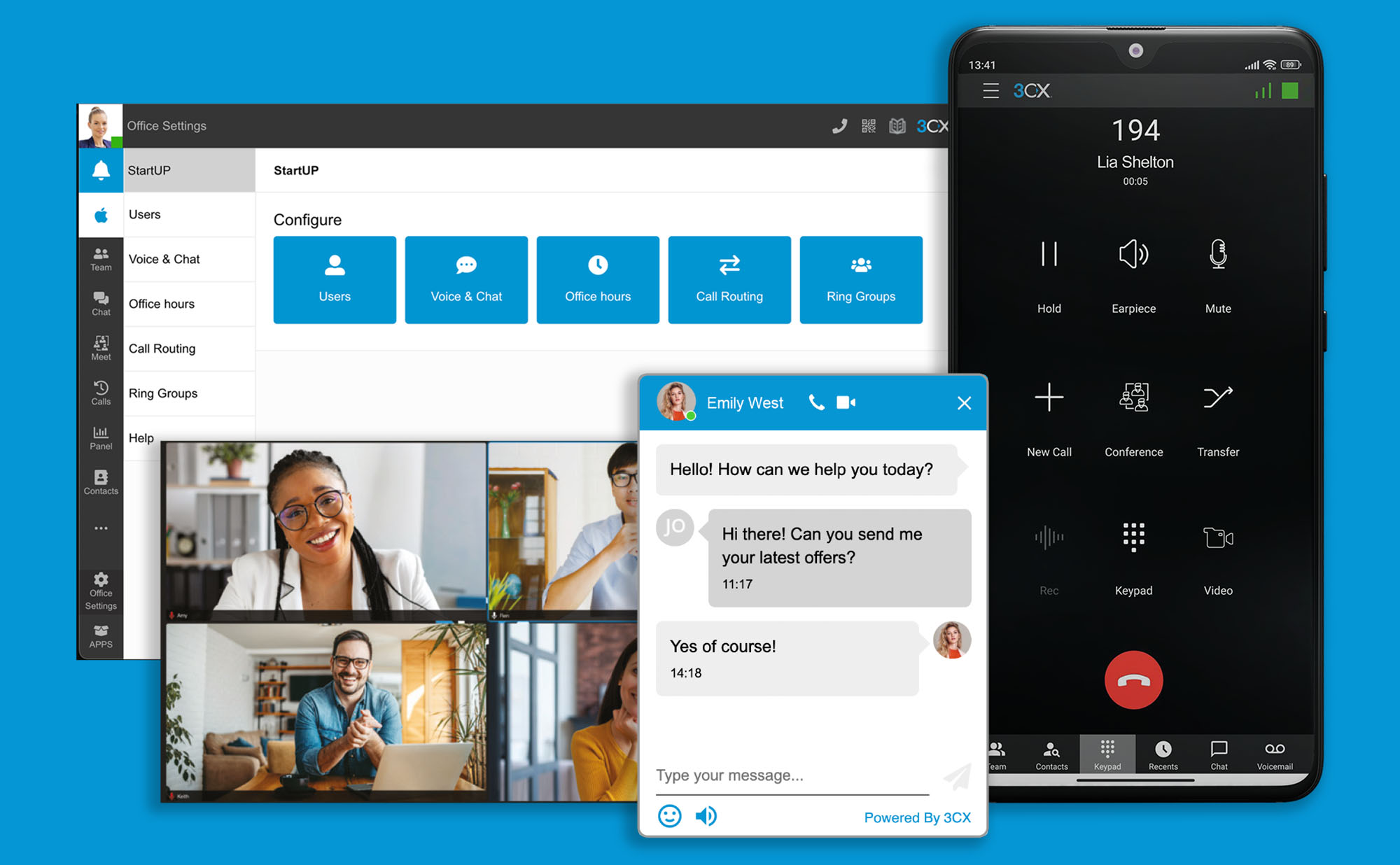 Powered by 3CX
3CX is a software-based, open standards IP PBX that combines excellent features with outstanding usability. Continually developed 3CX offers an ever-increasing array of enterprise features to the smallest of businesses.
With over 250,000 installations the world over, supporting both SMBs and large enterprises, 3CX has built a reputation for quality and reliability.
Let's Change the Game Together
Like what you have seen? Let's get started.
Just fill in a few details and we will be in touch as soon as possible.